Rust And Dust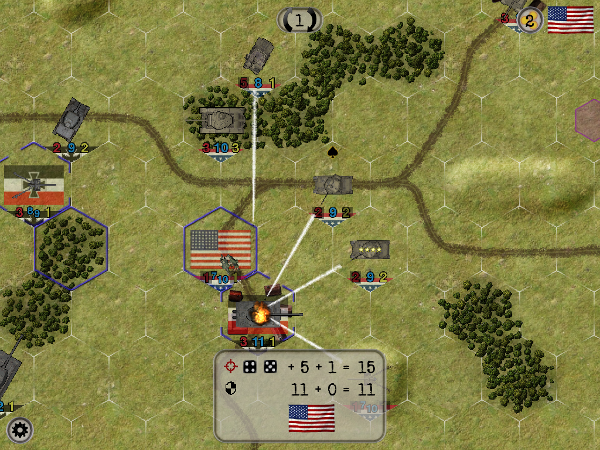 News:
It is still in beta mode, you can get it freely from here.
2016.05.11 : Smart path finding, replay mode ... I guess everything is ready now for the PvP mode.
2016.01.14 : First release in open beta mode.
Coming soon : Player vs Player mode, under heavy development right now !
Show Moves : to show the hexes you can reach with the selected unit.
Show Targets : to show the enemy units you can fire at with the selected unit.
Show Move Assists : to show the friendly units you will be able to move if you activate the selected HQ.
Show Enemy Possibilities : to show what a selected enemy unit can do, the above options determine what is shown.
Debug : well, to turn on the debug mode.
Fx Volume : to change the volume of the sounds effects.
Graphics : to choose between regular wargame chits, and animated realistic sprites.
Game Mode : to choose, between Solo, Player vs Player or Player vs AI game mode.
Scenario : to choose which battelfield you are going to play on.
Battle Objectivet : to consult the battle description and victory conditions.
from here you can manage your stored games.
Resume : to resume the game where you left it.
Replay Last Actions : to replay the actions of the last turn of the game.
Replay Battle : to replay the game starting from the first action.

Each player will have 2 to 4 AP to spend per turn.
You won't know the amount of AP that you can spend until you have reached that number.
An action point allows you to do one of the following:
Your units have an amount of movement points.
Each hex costs 1 MP, except the woods and the town that costs 2 MP.
If all your movement occures on a road, you gain 1 extra MP.
To move your unit:
select it.
select the destination hex.
select the final orientation of your unit.
On very rare occasions, you might be asked to specify the path you want to follow when for example you can pass over one of two Objectives.
To cancel the action, select your combat leading unit again.
Moving a unit costs you 1 AP.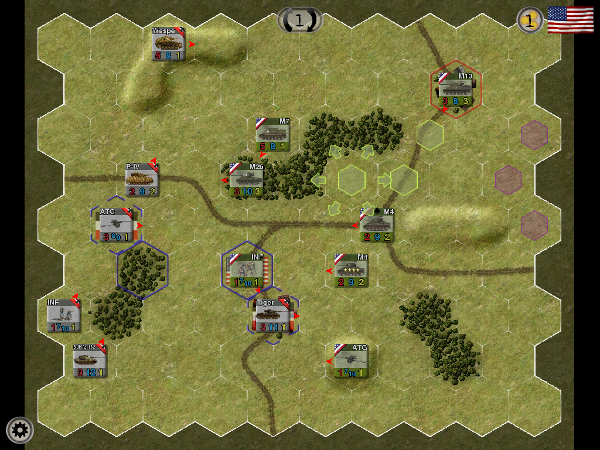 Your units have a fire range and a defense value.
On a hill, your range is increased by 1 (except for the infantry).
A target in woods or town has a defense increased by 1.
You can target 1 unit within your range with a clear line of sight.
Hills, cities, other units block the line of sight.
Friendly units that can fire and have a clear line of sight to the selected target can assist you.
Artillery units can assist even if they don't have a clear line of sight to the target.
Infantry units nullify the defense bonus when attacking to a town.
Soft targets have 2 defense values, the higher being used when the are on hills, woods or town hex.
You destroy the target if: 2d6 + #engaged units + bonuses >= defense + bonuses.
To perform a combat:
select your unit.
select your target.
(un)toggle the assist unit(s).
select the target again.
To cancel the action, select your combat leading unit again.
Leading a combat costs you 1 AP.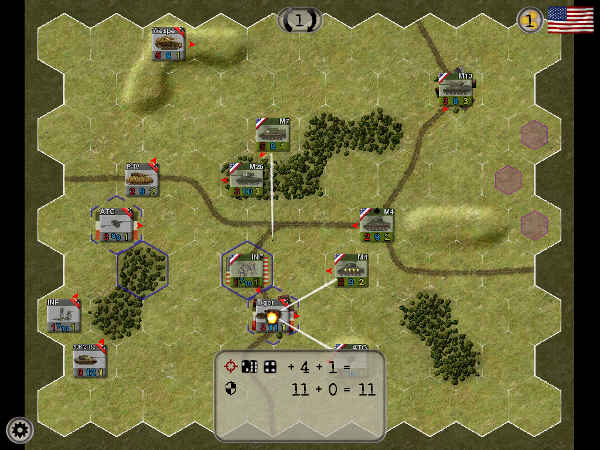 Your HQ units have

on them.
When you activate an HQ, adjacents units can move freely.
To perform an HQ activation:
select twice the HQ unit.
you can then move it and/or any other adjacent units in any order.
after each movement you can end your HQ activation with the button.
Activating an HQ costs you 1 AP.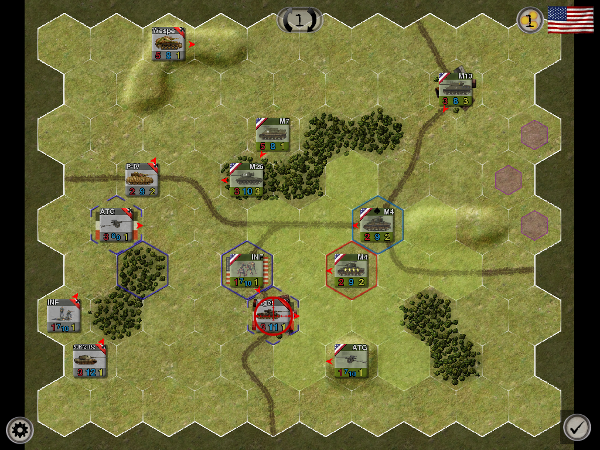 You can promote one of your regular unit into an HQ if you have in your casualties an HQ of the same kind of unit.
To perform an promotion to HQ:
select the regular unit.
touch the button.
Promoting a regular unit to an HQ costs you 1 AP.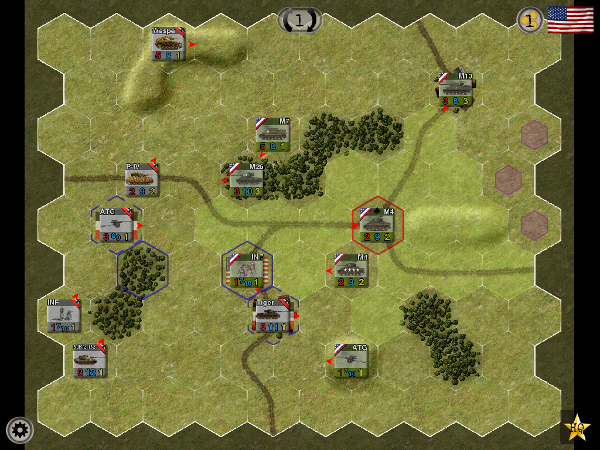 Ace units:
Your Ace units have an

on them.
When taking part in an combat, an ace unit allows you a second dice roll if the first one is a failure.
Special Hexes:
The following hexes will have importance in the victory decision of some scenarios.
Exit hexes will allow you to leave the battelfield if you have at least 1 MP left.
Objective will belong to the last army that passes over it.
Hold Objective belong to you as long as one of your units stands on it.

Deployment / Reinforcement:
Some scenarios will require you to first place some or all your units on the battle field.
Some others will require you to make some or all your units enter the battle field.
You may also recieve some reinforcement units during the battle.

In any of the above situation, you will see the number of available units over the unit dock button.

To make one unit enter the battle field from the unit dock:

select the unit.
choose one of the available highlighted hexes.
choose the orientation of the unit or perform a regular move.